Car ozone machine
Brand : Quanju
Product origin : Guangzhou
Delivery time : 3-5 working days
Supply capacity : 1000 units per month
Car Ozone Machine:
The advanced patented technology of OZONEMADE Car Sterilizer combines oxygen with plasma to produce ozone O3 which eliminates bacteria and viruses to purify the air effectively, neutralizes and degrades harmful substances, eliminates tobacco smell as well as odours. Ozone O3 converts polluted substances to oxygen O2 after degradation and elimination to give you a freshness of natural forest. In addition, OZONEMADE Car Sterilizer has been ultra-compact and delicate designed for convenience and easy use.
Car Ozone Machine Application:
1. Fast and completely decompose harmful volatile organic compounds inside the car , such as formaldehyde, ammonia, benzene, TVOC Total volatile organic compounds, etc., deodorize unpleasant smells of cigarette smoke, alcohol and food, effectively kill suspended bacteria and viruses, and protect passengers from cross infection.
2 Adopting plasma solo patent technology, it can produce both positive ions and negative ions, Eliminate dust and static electricity in air, purify polluted substance from car off gas, such as carbon monoxide, ex nitride ox hydroxide, etc. and negative anion can neutralize with the soot and dust of positive ion floating in the air, as result it can be down so clear the air. The Anion can be absorbed easily by various organisms which will change their structures or transfer their energy, so as to elimination the peculiar smells and germs. So create a natural forest-like environment, keep drivers nerve function, relieve fatigue, ease stress and anxiety.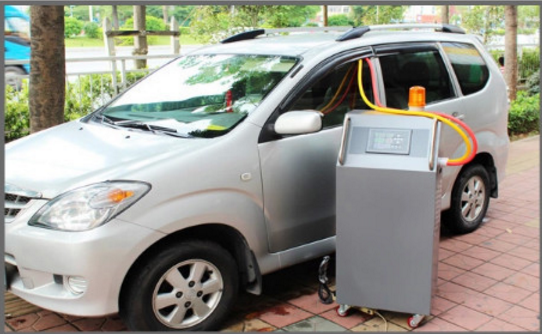 Car Ozone Machine Introduction:
For a long time, wipe steam has been used in car beauty industry for disinfection, sterilization, deodorization, etc. These methods have a lot of defects in using. Ozone disinfection products provide a fast and efficient, safe and reliable, easy-to-use method of disinfection, it is the ideal replacement for the traditional disinfection equipment, is sure to be a wide range of application.
Ozone is the allotropic oxygen, gaseous at room temperature, colorless in low concentrations, easily soluble in water. Ozone has strong oxidizing ability. When contaminants such as odors, bacteria or viruses make contact with ozone, their chemical structure is changed to less odorous compounds. As more ozone attacks the remaining compounds, the odor is eventually destroyed. This process is called oxidation. Ozone essentially reverts back to oxygen after it is used. This makes it a very environmentally friendly oxidant.
Quanju series "automotive sterilizer "is a high-tech equipment dedicated to automotive interior space disinfection ,sterilization, purification.Using newest ozone devices and variety of protection circuits, as well as ion generator for dust purification to insure its excellent performance and long lifespan.
Why to use this machine?
Under the temperature and humidity of a sealed car compartment, formaldehyde, benzene and ammonia will encourage the growth of bacteria and mites. This will cause dizziness, fatigue, nausea and respiratory infectious diseases such as tonsillitis, bronchitis and pneumonia. Furthermore, such condition aggravates illness and brings harm to our health. Besides, Staphylococcus aureus which is normally found in car will produce foul odour, whereas dust and dirt will affect the efficiency of air conditioner. Therefore, we need this car air purifier to eliminate bacteria, neutralise and degrade toxic and harmful gas as well as eliminate odour.
Features:
1. Model: HY-028A
2. Ozone output:5G/H
3. Negative ion:8-10 millions
4. Timer: 5 mins for ozone sterilization,5 mins for negative ion purification
5. OEM/ODM Approved
6. Technology corona discharge
7. Plug-in, Auto-operating with micro-technology
8. LED control panel
9. Work counter times display
10. CE approved
11. Built in air cooled quartz ozone tube, with long life time, high stability, high ozone concentration, low power consumption
12. Suitable used for the machine with no-edges, movable and inner-set stable
13. Control panel: Ozone timer, Anion timer, Total working time or counter, LED control panel, working light, Auto-setting
14. Each model has 2 colorful and anti-oxygen silicone tubes
Specifications:
| | | | | | | | |
| --- | --- | --- | --- | --- | --- | --- | --- |
| Item | Negative ion (Million) | Ozone output(G/Hr ) | Power (w) | Voltage (v) | Size (cm) | Weight (kg) | Material |
| QJ-8003KA | 8-10 | 5 | 150 | 220/110 | 55*40*110 | 37 | Iron varnish |
Operations:
1. Put the two connected tube into the car, turn on the power switch(The flank of machine).
2. Digital electronic start to work, the machine turn to operating system interface from start-up screen. The machine is ready to work.
3. The car ozone sterilizer control is totally LED electric automatic control system. Click the "Start" button, the work light will turn on. Then car ozone air sterilizer machine begin to work. Ozone generator machine working is on the countdown (300 seconds).After that, the switch can be changed automatically to bypass when Step 2 is over. Then air decontamination system begins working, the work light will continue lighting, machine is on the countdown (300seconds)
4. While Step 2 and 3 are over, air ozone sterilizer will cease operating; then click the "off lamp", the system is completely accomplished. Total working time: 10mins.
5. While operating processing, you could turn off the "off lamp", if you don't want the working light lighting.
6. Transformer device and air pump was turning on during working time, the radiator thermal induction automotive control the machine working or closing
7. If you don't want the working lamp on ,click "Stop"
Operation Video:
http://v.qq.com/page/i/s/q/i0141vfaisq.html
Please feel free to give your inquiry in the form below.