20g ozone generator
Brand : Quanju
Product origin : Guangzhou
Delivery time : 3-7 days after payment confirmed
Supply capacity : 100units/month
20g Ozone Generator:
Ozone generator with oxygen feeding is widely used for water treatment, like drinking water treatment plant, swimming pool, aquaculture and etc.
20g Ozone Generartor Specification:
1. Ozone output: 20 grams per hour
2. Ozone concentration: 60-80mg/l
3. Dimension: 55*40*85cm
4. Weight: 50.8kg
5. Power consumption: 850W
6. Oxygen flow rate: 4L/Min oxygen module(built-in style)
7. Corona discharge Ozone Technology
8. Adjustable ozone output from 0-100%.
20g Ozone Generator Applications:
Aquaculture
Ozone disinfection can play important roles in the prevention and elimination of fish diseases in aquaculture systems. Ozone, a powerful oxidizing agent disinfects and oxidizes organic pollutants while increasing the water's dissolved oxygen level. The end result is exceptional water quality, which is a fundamental requirement for intensive fish farming.
Ozone systems are easy to adapt to large scale ponds and raceways as well as small holding tanks and nurseries. Improved water quality leads to reduced mortality rates and an increased yield of a healthier product. Other benefits include a reduction of chemical additives for water treatment or vaccines and antibiotics.
Aquariums (Zoos)
Large municipal aquariums and zoos disinfect water with ozone to protect the different species in their care from infection due to water borne virus and disease. Because ozone is easy to control without a long-lasting residual, the animals are also protected from irritation around sensitive areas often associated with chemical disinfectants. Large aquariums also use ozone to improve the water clarity for maximum impact on the viewing public.
Beverage and Water Bottling
There are three main applications for ozone in the bottling industry including the ozonation of the wash water used to clean the bottles prior to filling, ozonation of the actual bottling water and ozone for Clean In Place (CIP) system sanitation. Experience has indicated that a small dose of ozone from a high concentration ozone generator in the region of 0.2 mg/l to 0.4 mg/l is sufficient to sanitize the product and the product packaging.
Regardless of the application point of ozone, the final bottled product will be dramatically improved with consumer safety and confidence increased.
Color Removal
Color due to organic molecules or products break down quickly when they come into contact with ozone. The powerful oxidation potential of ozone has made color removal one of the "classic" ozone applications for drinking water along with taste and odor removal which are also organic based. This need has crossed over to wastewater treatment (industrial and municipal) and today ozone is used extensively to remove color from effluents from dye manufacturers, textile mills, pharmaceutical factories and other industrial companies.
Ozone is also used extensively as a "bleach" in many processes such pulp and paper manufacturing, kaolin production and even textiles (stone washed denim). Ozonia has a broad range of products from laboratory scale ozonators to large engineered ozone plants to satisfy any possible color removal need.
Food / Produce / Poultry
Ozone is becoming a popular alternative solution to traditional sanitizing agents and providing additional benefits. Ozone is an oxidizing agent, 1.5 times more powerful than chlorine and effective over a much wider spectrum of microorganisms. Ozone kills viruses and bacteria such as Escherichia coli and Listeria much faster than chlorine and other chemical agents and is free of chemical residues as it decomposes into simple oxygen.
To simplify the integration of ozone into an existing or future process, Ozonia has developed a broad range of pre-engineered and pre-fabricated injection skids to fit nearly every application.
There are many different applications in the food industry for ozone. Here are a few:
>Disinfection of Process Water
>Produce Washing and Rinsing
>Process Water Recycling
>Produce Storage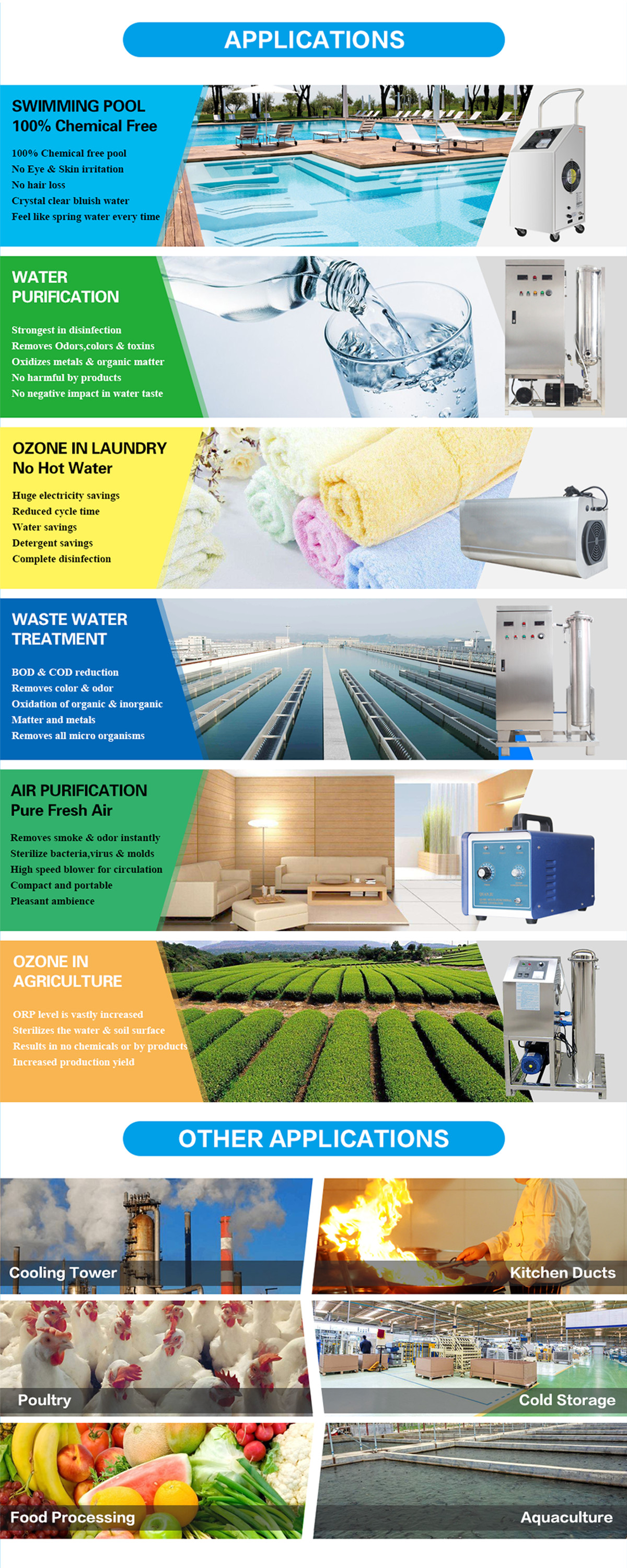 Please feel free to give your inquiry in the form below.