Ozone Generator for Fish Farming
Brand : Quanju
Product origin : Guangzhou
Delivery time : 15-20 days
Supply capacity : 1000 units per month
Ozone Generator for Fish Farming Features:
1. Ozone output: 40G/Hr (Customized water flow rate)
2. Ozone concentration: 80-100mg/l
3. Oxygen feeding ozonated water machine is composed of: oxygen feeding ozone generator, ozonated water mixing tank, venturi injector, water pump, circulating water system etc.
4. Advanced technology corona discharge ozone generator, with longlife span, stainless steel 304 external case, high ozone concentration rate.
5. Cooling way: water cooling (Remark: water flow rate:0.5~0.6m³/Hr)
6. No-water protection system. Turn off machine if no water in pressure pump
7. Over-temperature protection
Ozone Generator for Fish Farming Application:
The system instantly turns normal water into ozonated water for your application, like water purification, drinking water, swimming pool, vegetable washer and so on. 40g/h Ozone Water Machine can be used in food cleaning ; industrial raw materials cleaning such as fruit,vegetable and seafood processing plant; aquaculture and farm facility cleaning; space ozone water spray disinfection; produce mechanical cleaning etc.
Customer's case: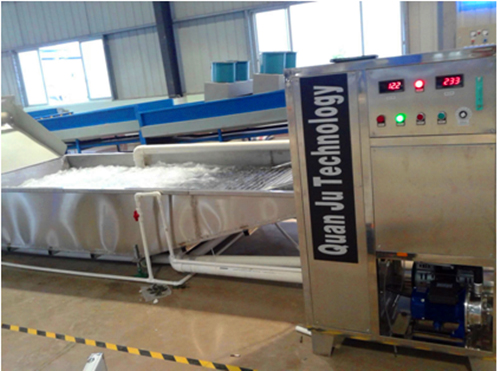 Please feel free to give your inquiry in the form below.